UNESCO Creative City of Gastronomy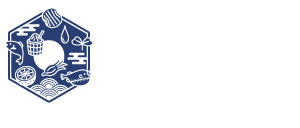 By virtue of its geography and topography, Usuki City has been blessed with soft, delicate water that has a rich, mellow flavor. In addition to Usuki's brewing industry, which began around the year 1600 and has given rise to a diverse food culture that includes miso, soy sauce, and sake brewing thanks to the preservation and improvement of traditions over the years, the city also promotes organic agriculture and local production for local consumption starting from the soil preparation environment, and in November 2021, in recognition of its efforts to increase food diversity and sustainability, Usuki was recognized as a UNESCO Creative City of Gastronomy.
Spot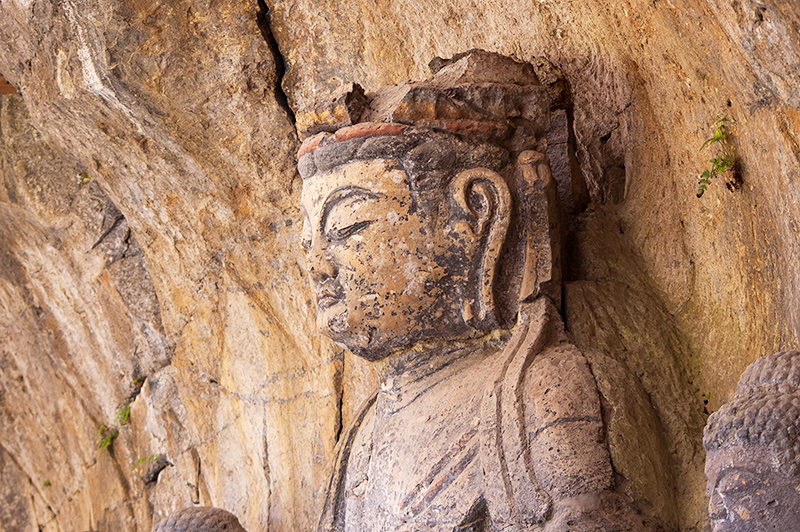 Usuki Stone Buddhas
(National Treasure)
Address

Fukata, Usuki City

Phone No.

0972-65-3300

Hours

9:00 - 17:00

Closed

Open year round

Admission Fee

Adults: 550 yen
Children: 270 yen

Website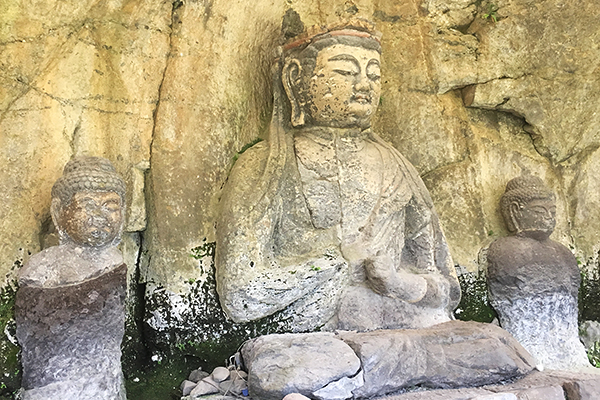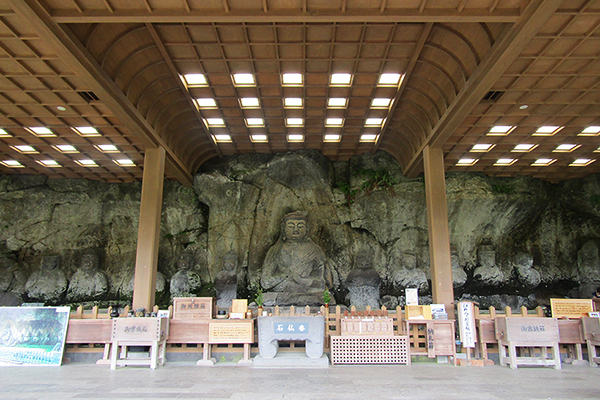 The Usuki Stone Buddhas (Cliff Buddhas), represented by the Dainichi Nyorai statue in the Furuzono Cluster, are said to have been carved sometime between the late Heian (794-1185) and Kamakura (1185-1333) periods.
The scale, quantity, and quality of the sculptures make them a collection of stone Buddhas that represent Japan, and in June 1995 they were designated as a National Treasure, the first for cliff Buddhas in Japan and the first for sculptures in Kyushu. The entire collection of stone Buddhas, a total of 61 among four clusters (Furuzono, Sannosan, Hoki First, and Hoki Second clusters), has been designated as a national treasure.
Close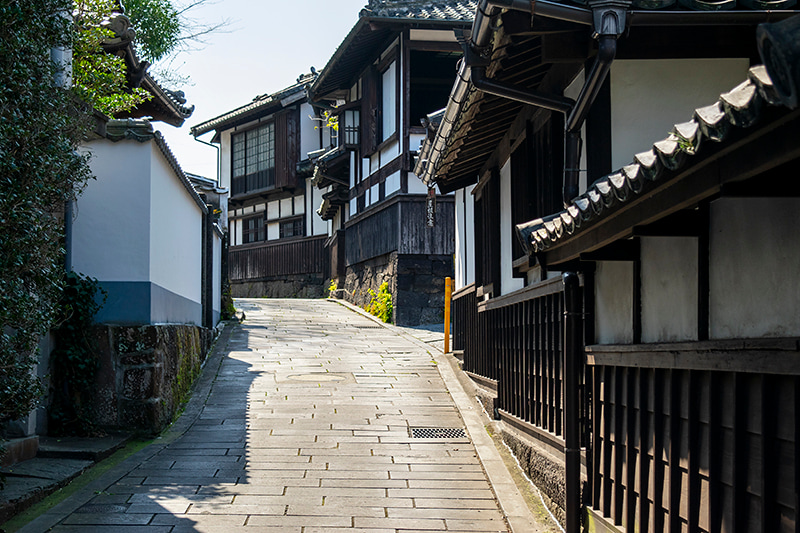 Nioza Historic Road &
Former Shinko-ji Temple
Address

Nioza, Usuki City

Phone No.

0972-64-7130

Hours

8:30 - 17:00

Closed

Open year round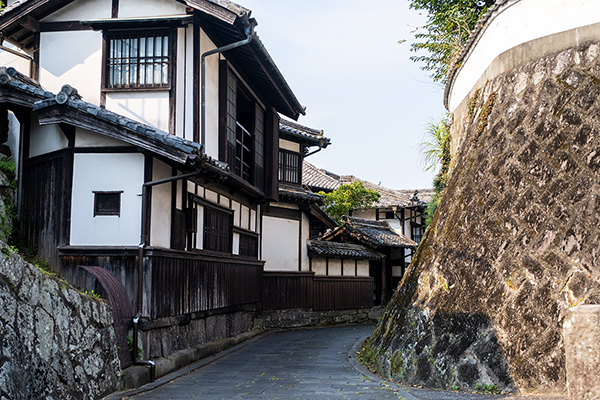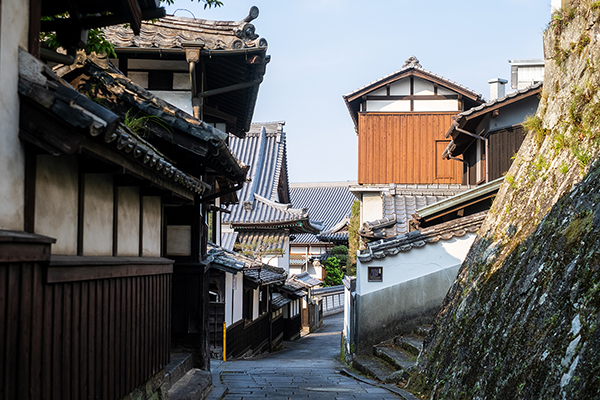 Nioza is a hill formed by tuff, hardened volcanic ash from Mt. Aso, with roads cut through the rocks in multiple locations.
In particular, the area in front of Former Shinko-ji Temple is known as "Kiridoshi" ("cut-through"), which is one of the most well-known sights of Usuki and was selected as one of the 100 Best Townscapes in Japan in November 1993. The houses of high-ranking samurai families line the streets, and there are also many temples gathered in the area.
Close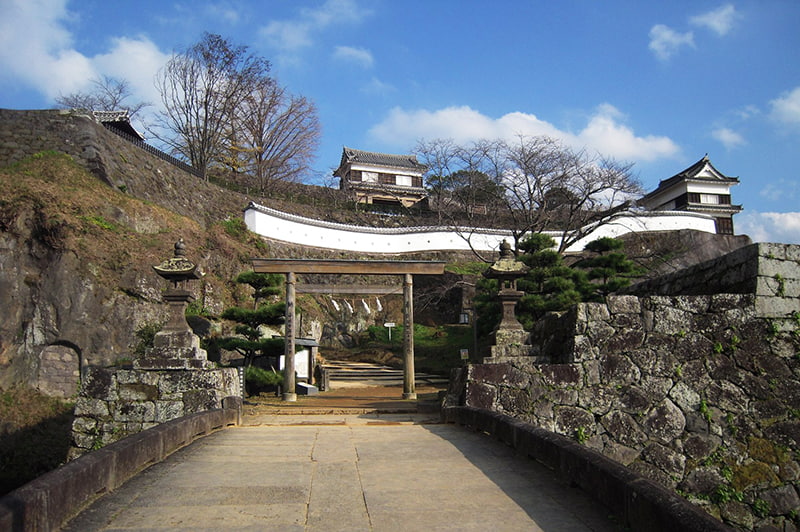 Usuki Castle Ruins
Address

91 Usuki, Usuki City

Phone No.

0972-63-1111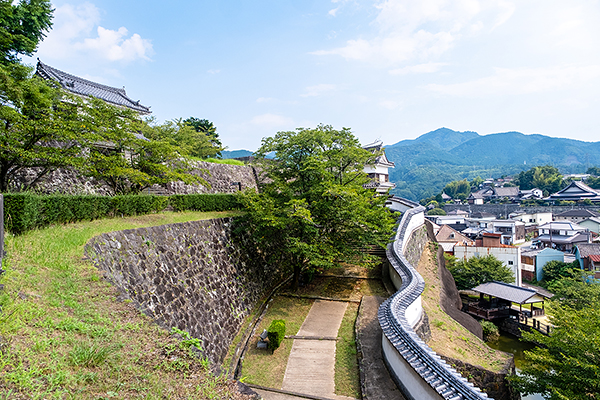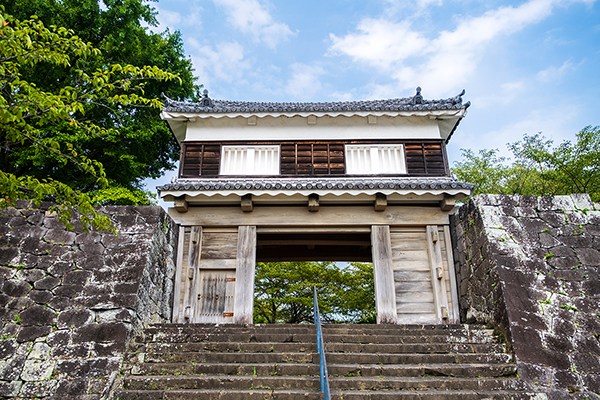 "This castle was the residence of Otomo Sorin, a famous Christian feudal lord, with a prayer room inside the castle and a Christian training center in the castle town. When the castle was built, it was located on an isolated island called Niujima, boasting solid defense with the surrounding sea serving as natural protection.
Today, portions such as two Yagura (turrets), a portion of the drawing room's garden, and stone walls still remain, and the rest of the space is known as Usuki Park, where local residents come to relax. In the spring, it is also a very popular spot for cherry blossom viewing."
Close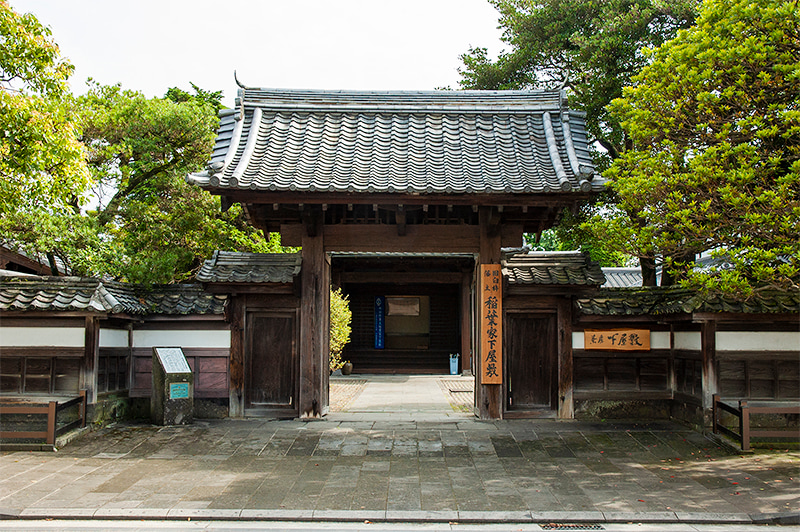 Inaba Family Villa
Address

6-6 Usuki, Usuki City

Phone No.

0972-62-3399

Hours

9:00 - 17:00

Closed

Open year round

Admission Fee

"Adults: 330 yen
Children: 160 yen"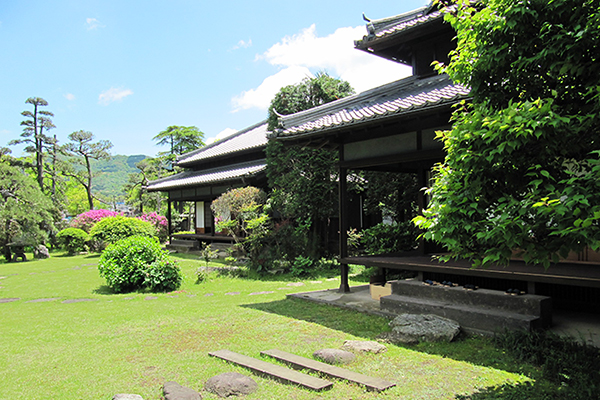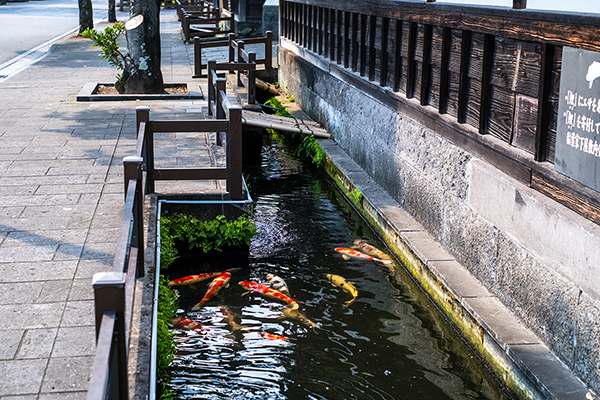 "Inaba Sadamichi, the first-generation head of the Inaba family, was transferred from Gujo-Hachiman in Mino Province (present-day Gifu Prefecture) to Usuki Castle in 1600 as a reward for his military service in the Battle of Sekigahara.
The Inaba Family Villa was built in 1902 as a residence for the Inaba family, the lords of the former Usuki Domain, who relocated to Tokyo after Japan's feudal system was abolished. Although the residence was built in the modern era, the building itself retains the style of a samurai residence.
The former Hirai Family Residence, adjacent to the Inaba Family Villa, is the residence of a high-ranking samurai family that also retains the architectural style of the Edo Period (1603-1867)."
Close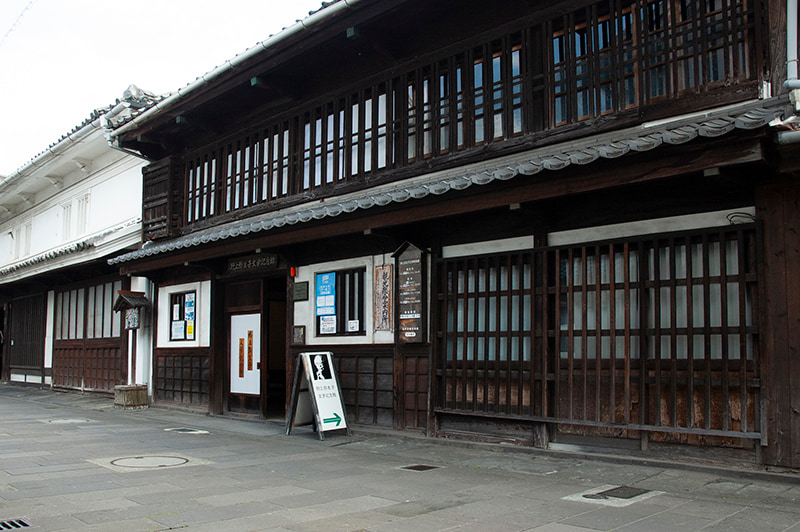 Nogami Yaeko
Literature Museum
Address

538 Hamamachi, Usuki City

Phone No.

0972-63-4803

Hours

9:30 - 17:00

Closed

Open year round

Admission Fee

"Adults: 310 yen
Children: 150 yen"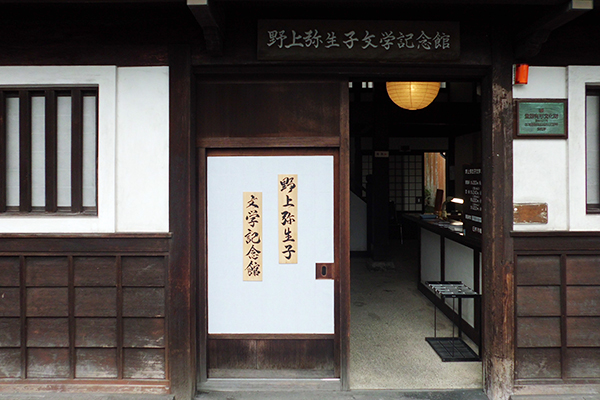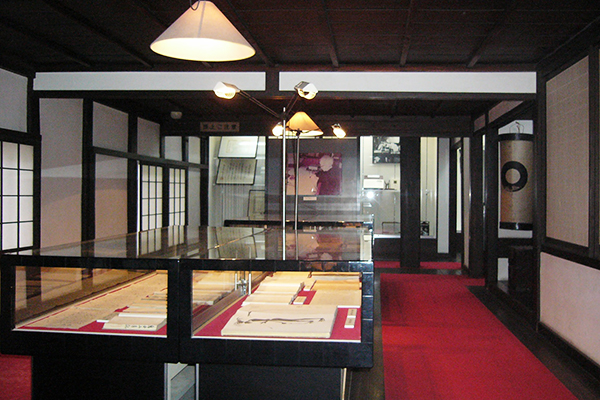 Yaeko Nogami was born in 1885 as the eldest daughter of the second generation of Shiroya Sake Brewery (present-day Kotegawa Sake Brewery) in Usuki City. She moved to Tokyo at the age of 14 to pursue her studies, and after graduating from Meiji Girls' School, she married Toyoichiro Nogami, also a native of Usuki, at the age of 21. She began writing novels in the literary environment of her husband, whose mentor was Soseki Natsume, and remained active for many years, publishing a vast number of works until the age of 99. In 1964, she won the Women's Literature Prize for "Hideyoshi and Rikyu", and in 1971 she was awarded the Order of Culture. As a memorial for Yaeko and to honor her legacy, a portion of her birthplace, the Kotegawa Sake Brewery, was renovated to establish the Nogami Yaeko Literature Museum.
Close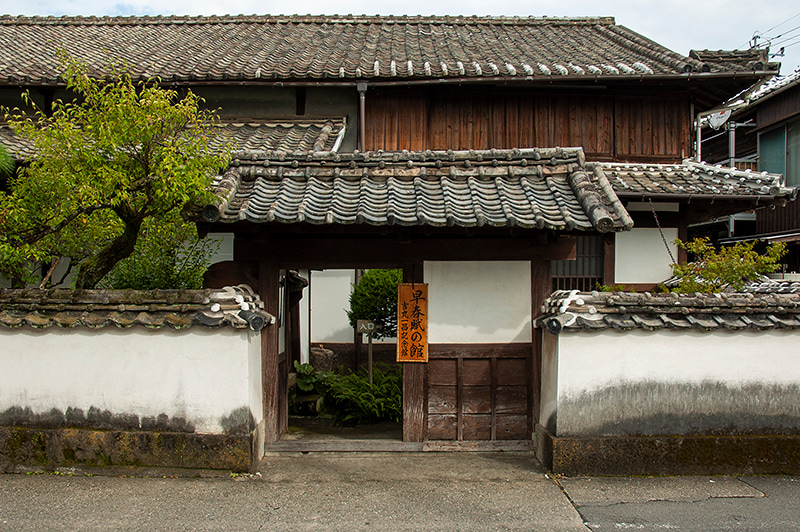 Yoshimaru Kazumasa
Memorial Museum
Address

980 Ichihama, Usuki City

Phone No.

0972-63-7999

Hours

8:30 - 17:00 *Open on weekends and holidays only

Closed

Weekdays

Admission Fee

Adults: 220 yen
Children: 110 yen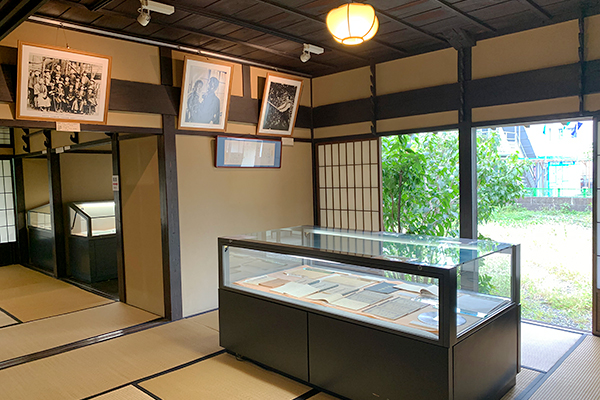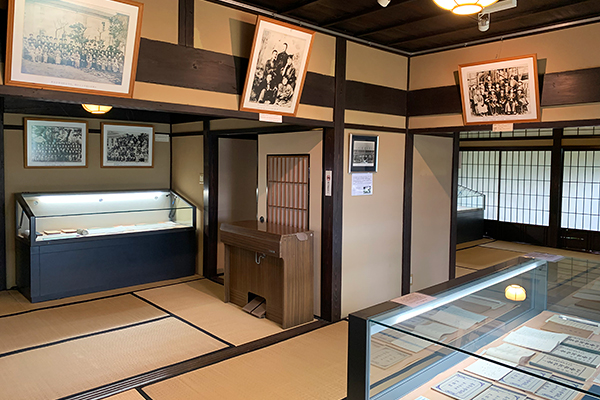 "Kazumasa Yoshimaru was born and raised in Usuki. After graduating from high school, he became a teacher at Tokyo Prefectural Dai-San Junior High School, and then a professor at Tokyo Music School (present-day Tokyo University of the Arts). He then became a member of the Ministry of Education's Shoka (school music) Textbook Editorial Committee, contributing lyrics to a number of songs, including "Soshunfu" ("Ode to Early Spring"), "Konoha" ("Tree Leaves"), and "Kokyo wo Hanaruru Uta" ("Song of Leaving My Hometown", based on a German folk song).
He worked as a lyricist on many innovative nursery rhymes and other songs for the Ministry of Education until he passed away at the young age of 43. This museum, housed in what used to be his wife's family home, exhibits items such as sheet music and other various artifacts relating to Yoshimaru."
Close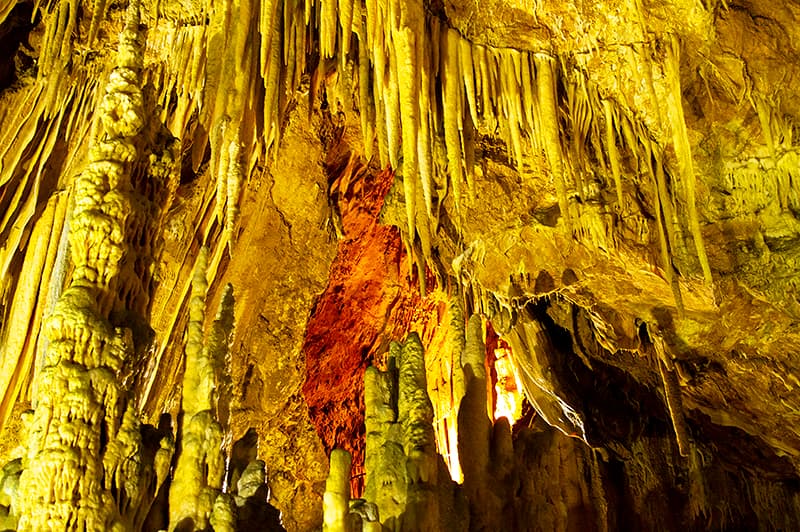 Furen Stalactite Grotto
Address

Notsumachi Tomari, Usuki City

Phone No.

0974-32-2547

Hours

9:00 - 17:00 (March - October)
9:00 - 16:00(November - February)

Closed

Occasional closures

Admission Fee

Adults: 1,000 yen
Elementary & junior high school students: 700 yen

Website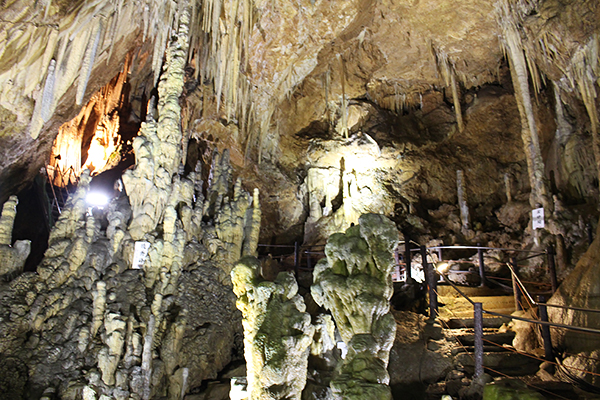 The Furen Stalactite Grotto was discovered on February 14, 1926, by a local youth group, and was designated a National Natural Monument on April 4, 1927.
The original entrance to the cave has been preserved as an entrance for deep exploration, maintaining its appearance at the time of its discovery.
Because it is a closed cave, the stalactites have grown robustly in beautiful, well-proportioned shapes, and there is a wide variety of stalactites, making it one of the most well-known caves in Japan.
The inside of the cave is very cool even in the summer, and visitors can enjoy the unique shapes of the stalactites.
Close
Annual events
Spring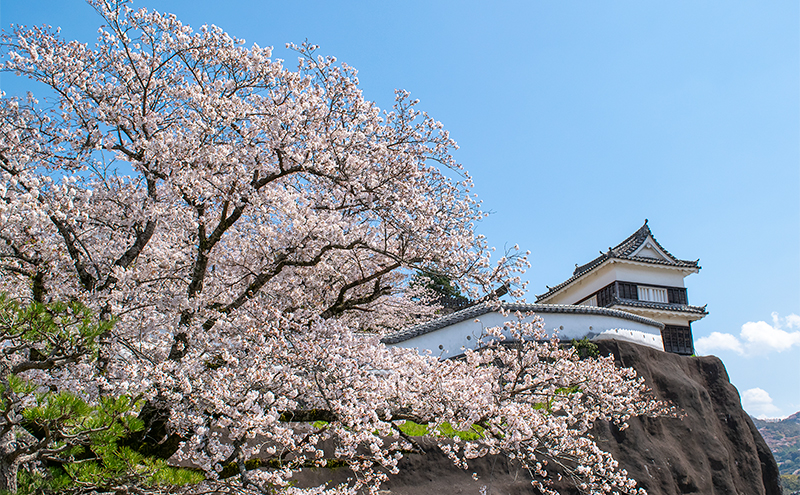 Usuki Castle Ruins Cherry Blossom Festival
Date & Time

Late March - Late April

Location

Usuki Castle Ruins
Somei-Yoshino cherry trees bloom vibrantly at this famous cherry blossom viewing spot. During the festival, which is held to coincide with the blooming of the cherry blossoms, food stalls are set up and stage events take place, and at night the blossoms are illuminated for beautiful nighttime viewing.
Summer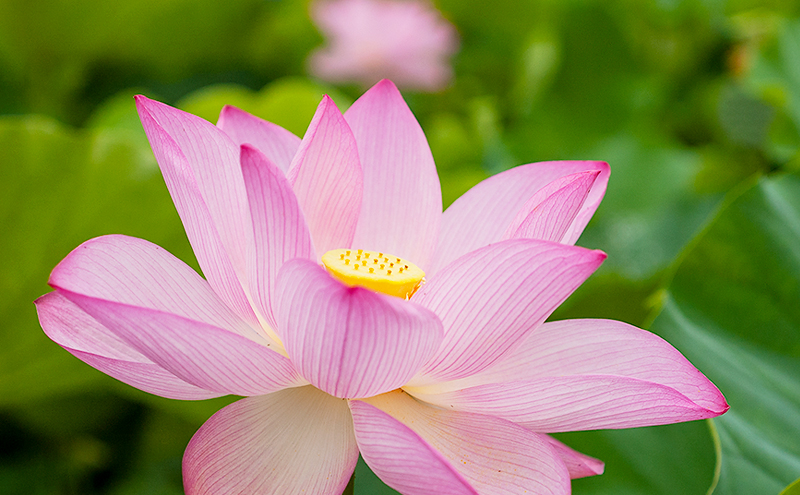 Stone Buddha Lotus Flower Festival
Date & Time

July

Location

Vicinity of Usuki Stone Buddhas (National Treasure)
There is a lotus field in Usuki Sekibutsu Park, and in July these lotus flowers bloom beautifully. A variety of events, including the preparation of lotus dishes, are held in the vicinity of the park when the lotuses are in full bloom.
Summer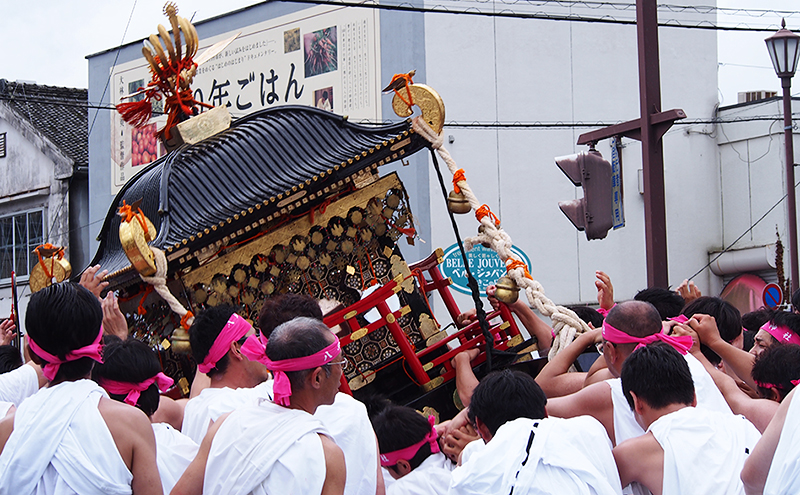 Usuki Gion Festival
Date & Time

July

Location

Vicinity of Yasaka-jinja Shrine
This summer festival, the largest in Usuki, has been held since 1643. A parade of ritual processions and floats proceed through the town. Some of the many highlights of the festival include a spear-waving procession unique to Usuki and the sound of the music that accompanies the floats.
Autumn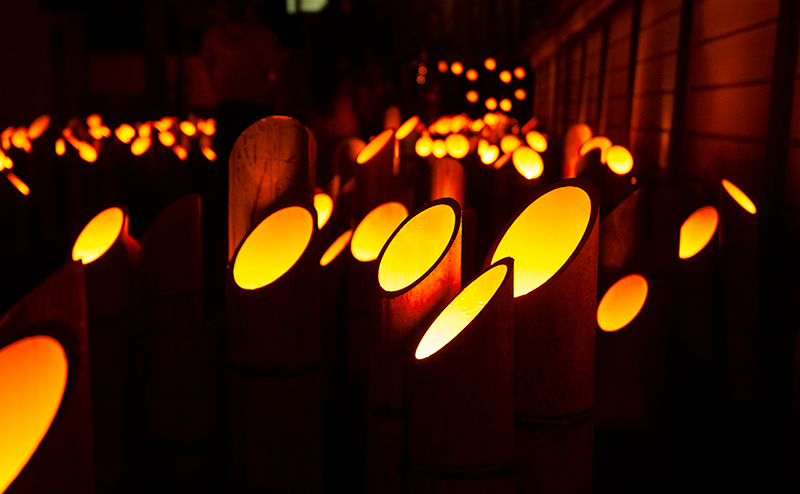 Usuki Takeyoi
Date & Time

Early November

Location

Castle town
The traditional townscape of Usuki is enveloped by the gentle light of bamboo lanterns and decorative objects.
Winter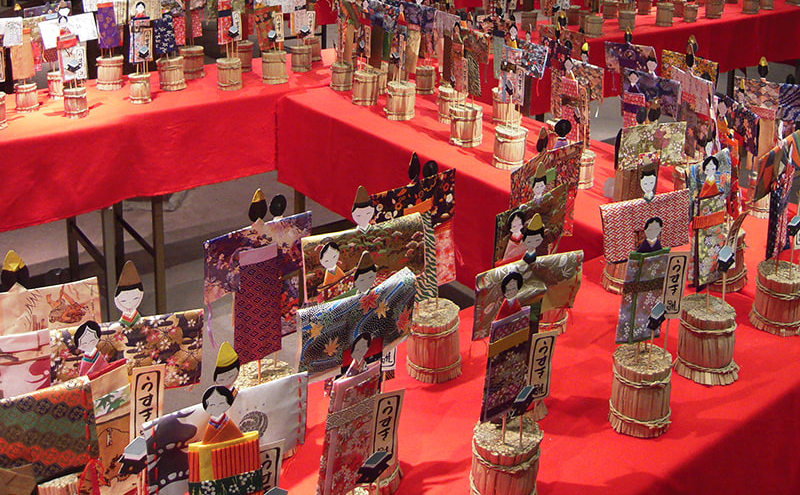 Usuki Hina Doll Tour
Date & Time

Early February - Early March

Location

Usuki Tourism and Community Plaza, Sala de Usuki, etc.
In the Usuki Domain, residents were allowed to display only paper Hina dolls due to reasons of frugality and thrift, and the simple, graceful Usuki Hina doll was created based on the original standing dolls, which were the predecessor to today's Hina dolls. A variety of events are held during the festival period.
Food & Souvenirs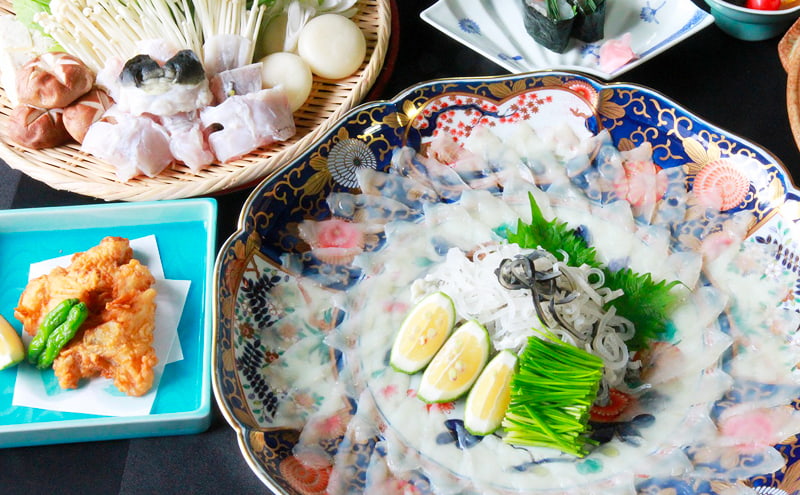 Fugu (pufferfish)
It has long been said that "Usuki is the best place to eat fugu (pufferfish)", and many fugu specialty restaurants can be found in the city. It is said that winter is the best season for the fish, but in Usuki, you can enjoy delicious fugu any time of year.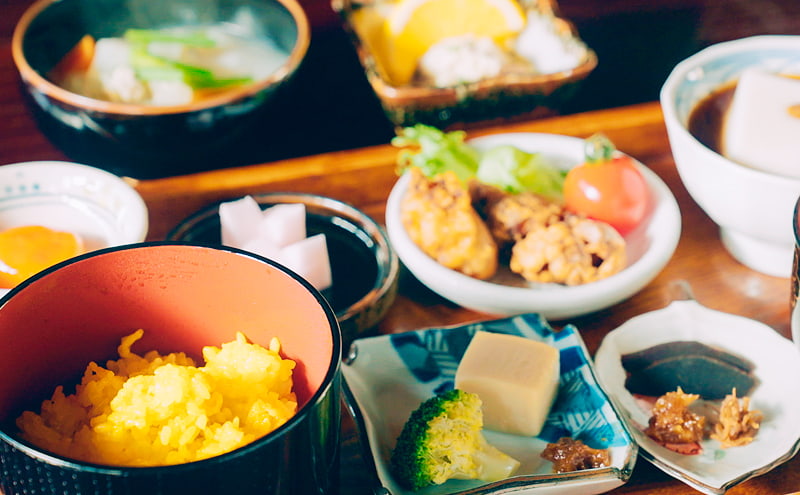 Local cuisine
Traditional Usuki flavors such as "Ohan", rice colored yellow with gardenia seeds, and "Kirasumameshi", a dish made with small pieces of fish and okara (soybean pulp), are still passed down from generation to generation.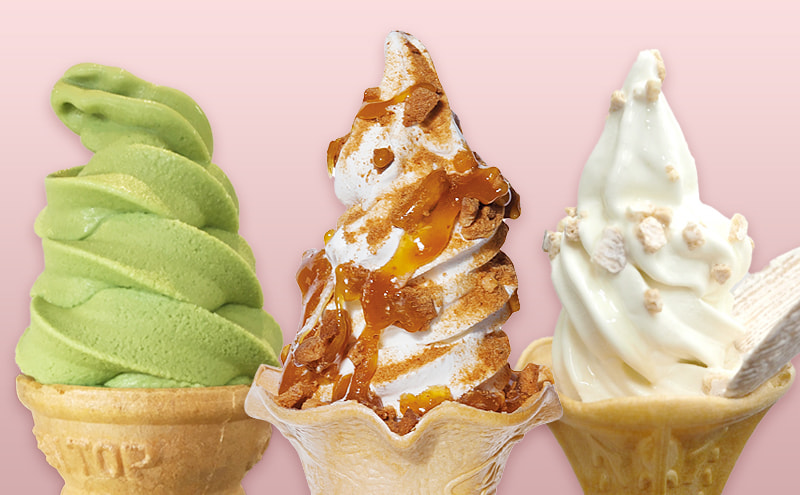 Soft-serve ice cream
Unique ingredients and flavors! Enjoy a wide range of flavors made using Usuki specialties, including miso, soy sauce, Usuki rice crackers, and kabosu citrus!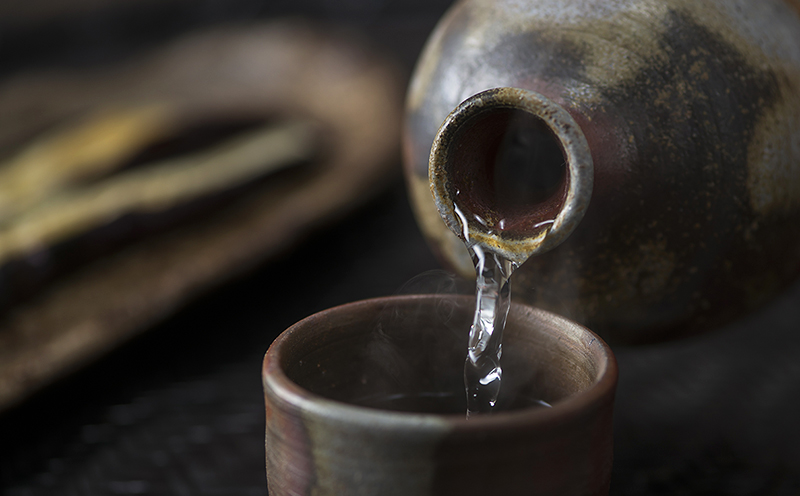 Alcoholic beverages
Usuki is home to a wide variety of locally produced sake and shochu, and you can taste the climate of Usuki in the spirits made here.
Experience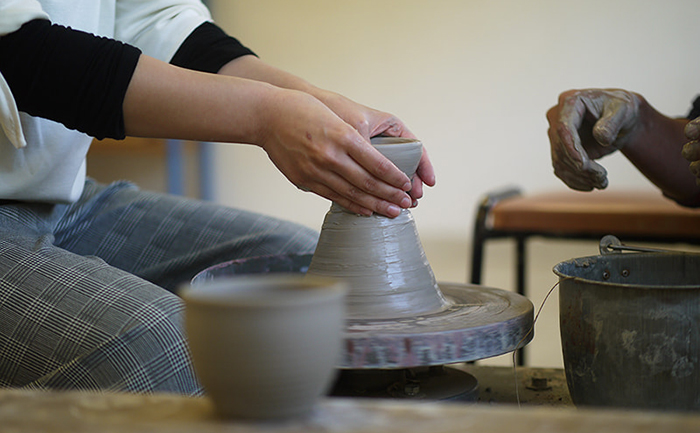 Coming soon...
Lodging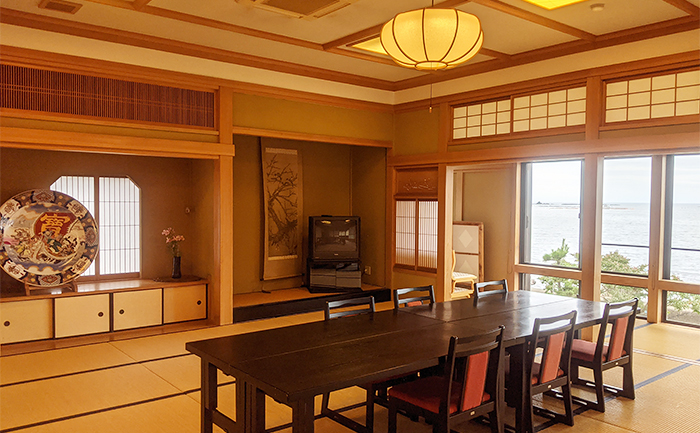 Coming soon...
Information Centers
Usuki Tourism and Community Plaza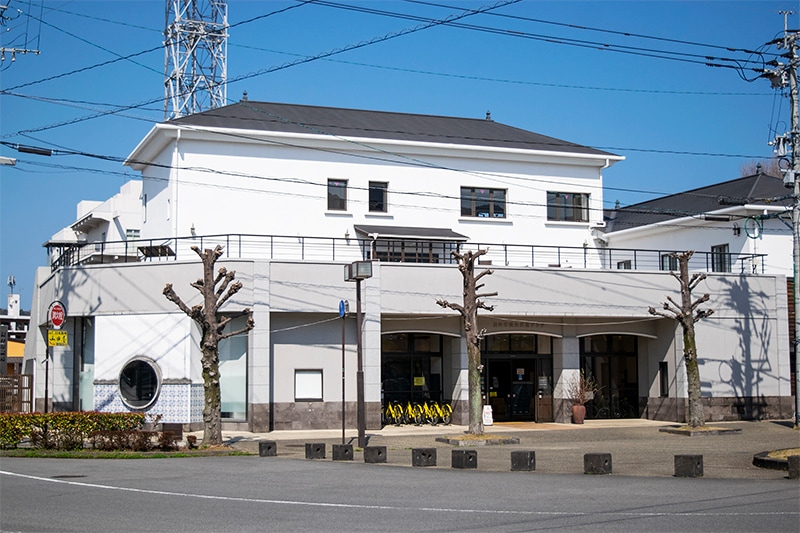 Address

100-2 Usuki, Usuki City

Hours

9:00 - 18:00

Closed

Open year round

Access

Approx. 10-min. walk from JR Usuki Sta.

Bicycle rental

Regular bicycles / electric-assisted bicycles (300 yen per day)
Usuki Station Tourist Information Center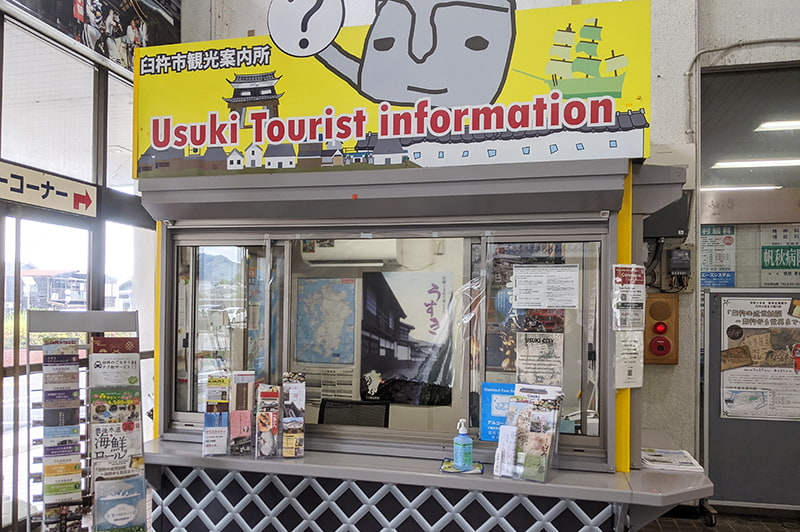 Address

2574 Kaizoe, Usuki City

Hours

9:00 - 17:00

Closed

Year-end and New Year holidays

Access

Inside JR Usuki Station

Bicycle rental

Regular bicycles
Access
From Oita Airport
Approx. 1 hr. 20 min. by Pref. South Express Limousine Bus (Oita Airport → Usuki IC)
Approx. 1 hr. by express bus (Oita Airport → Oita Sta.), approx 35 min. by JR Limited Express train (Oita Sta. → Usuki Sta.)
From Fukuoka
Approx. 2 hrs. 40 min. by JR Limited Express train (Hakata Sta. → Usuki Sta.)
Approx. 2-hr. drive (Fukuoka City → Usuki IC)[From Yawatahama, Ehime Prefecture] approx. 2 hrs. 25 min. by ferry (Yawatahama Port → Usuki Port)